Do you have a serious sweet tooth? Do you want dessert everyday? Well, with raw foods.. you CAN! I actually put the ingredients in the food processor while I was making dinner. Then, all I had to do was pour it into the crust, pop it into the freezer and it was ready!
Pie ingredients:
Mini graham cracker crusts
2 frozen bananas
3/4-1 c frozen strawberries
Up to a few T soymilk
Optional toppings:
Maple syrup or agave nectar
Fresh fruit of choice
If you keep these mini pie crusts on hand, you can throw together a dessert in just a few minutes!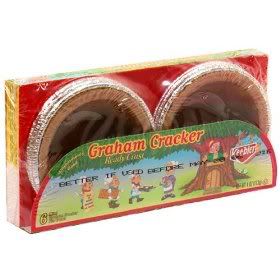 Directions:
If you've read my earlier posts you'll know that I recommend peeling, breaking apart and freezing organic bananas .. so you can make a dessert anytime! So, just pull out two frozen bananas and a cup of frozen strawberries. Place these fruit into the food processor and turn it on. Now add a few T of soymilk to allow the fruit to mix together. You may have to let the fruit thaw for a few minutes before it will mix completely. Just remember, you don't want to add too much soymilk because you don't want the fruit mixture to become too thin. Just add a few spoonfuls of soymilk, allow it to thaw and mix. Then, allow it to thaw and mix. Repeat until the fruit is completely smooth. (Plus, if you let it blend for a few extra minutes your pie filling will become soft and fluffy, too!)
Now, pour the filling into the six pre-packaged pie crusts. That's it! Keep these pies in the freezer. If you're making this pie to be eaten almost immediately, just leave the pie in the freezer for about a half hour to chill. Then it's ready! When you decide to eat the remaining pies, just let them thaw for a half hour before serving.
The final step is to cover with your favorite fresh fruit and pour a tablespoon or two of maple syrup directly onto the pie and fruit.
Enjoy!
Tyler prefers his with strawberries: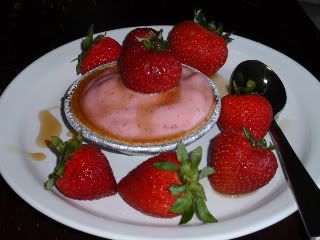 I prefer raspberries: